The Barry Scrapyard story, part 3
Most of the early movement of locomotives from the Barry site were carried out by rail, this being an obvious choice when many of the preservation sites who had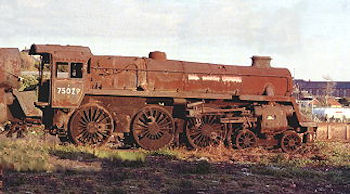 bought the locomotives were connected to the rail network, and this was the case with The Great Western Society at Didcot, and the Severn Valley Railway at Kidderminster. Following a check over by qualified inspectors from BR, the locomotives were shunted onto the departure sidings to await a BR diesel. Often the engine was at the rear of a large line of locomotives and occasionally derailments would occur due to the condition of the track in the scrapyard. As Barry did not have the equipment to the re-rail the engine, the offending wheels that had derailed were simply cut off and this occurred to 6023 'King Edward II', 'Jubilee' class 45699 and 9F 92207, although in the latter case, the locomotive's plight was not helped when some person unknown had removed the bogie springs prior to the engine being moved.

All the locomotives that left Barry by rail were either transported as a special train or were coupled into a normal service freight train, either method having a maximum speed of 15 mph. Within a few years though, BR became more concerned about the practical difficulties of towing derelict locomotives around their system, while at the same time they were trying to operate a fast commercial service. Hot axleboxes had caused a few small problems, but they could lead to serious delays on the rail network as a whole, so in 1976 BR banned these movements by rail and since that time all removals from Barry were carried out by private road hauliers. Taking the engines out by road was not simple in that the yard was in the centre of the docks and Barry was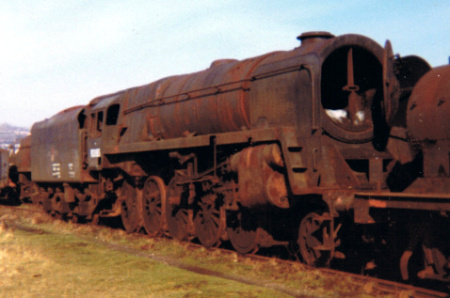 built on a hillside - meaning steep roads.

As the years progressed, the condition of the locomotives remaining at Woodham's became more and more derelict, stripped and dejected. This was not helped by the corrosion from the salt-laden environment of Barry that bit deep into the steelwork leaving the thinner plate of cabs, cladding tanks and tenders that was more like lace than steel. But as one saying goes, nothing is impossible in locomotive restoration - just more difficult and more expensive! BR Standard 71000 'Duke of Gloucester' is an excellent example of what must be the most impressive rebuild so far. This locomotive was regarded as "mission impossible" as it lacked a tender, both outside cylinders and connecting/coupling rods but has since returned to BR tracks - a testament to the dedicated hard work to given by bands of volunteers.

In addition to holding the British Empire Medal for bravery while serving with the Royal Artillery in Italy, Dai Woodham was awarded the MBE in 1987 - not because of his achievements in the locomotive preservation field - but for the recognition of a number of business initiatives which helped to create many jobs in the Barry Docks area. Many people thought that Dai made a fortune from the sale of the locomotives, but with an investment of £1,250,000 lying in the West Pond site and the old Barry Works yard, and then leaving it for 25 years in the form of deteriorating metal can only be a great risk. Put that money in a bank and you could watch it grow into a nice little sum.

Sadly Dai was diagnosed as having lung cancer in early 1994 and despite treatment, died on September 12th of that year. Dai was immensely proud of the part that he played, more by fate than choice, in the saving of so many steam locomotives. He was also proud that it all happened in his home town of Barry and ultimately that the Wales Railway Centre (now known as the Vale of Glamorgan Railway) was to relocate from Bute Road, Cardiff to a new base on the Barry Island branch, overlooking the famous West Pond site where the Barry scrapyard legend grew.

Dai Woodham was no soft touch or philanthropist, but he was genuinely moved by the effort and commitment of the people who came to buy his engines. He understood their belief in their cause and he influenced the course of railway preservation in a way that nobody could ever have thought possible, and thousands of people have thousands of reasons to be grateful to him.

Copyright © by John Daniel 2013.