PRESERVED
LOCOMOTIVES MENU
Preserved Steam Locomotives
When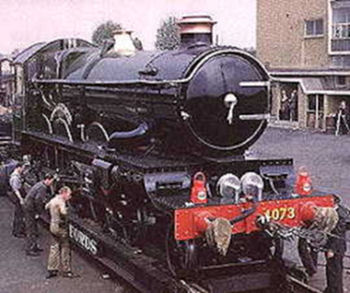 the Consultative Panel for historical railway relics met in 1961, seventy-one locomotives were scheduled for preservation with just eight from the GWR region (called the Western Region from 1948), however three of these engines were already preserved. These were the replica of the broad-gauge North Star, 'City' class No. 3440 City of Truro and 'Star' class No. 4003 Lode Star.

Among those people horrified at such a small recognition for such a historic railway as the Great Western, were four 16 year old schoolboys who appealed for funds to purchase a '14xx' 0-4-2T and an autotrailer. These were the humble beginnings of the Great Western Society, whereas today the Society at Didcot has 21 GWR locomotives, 42 GWR carriages, a GWR diesel railcar, 33 GWR wagons and vans, a complete GWR engine shed, 2 signal boxes, 2 stations and a museum housing a priceless collection of GWR memorabilia.

Other notable railway collections of Great Western locomotives include the West Somerset Railway at Minehead with 19¾ miles of the most scenic track and the Bodmin and Wenford Railway in Cornwall.

Last but not least, my own local railway collection, the Severn Valley Railway with it's 16 miles of track supplying an excellent atmosphere in a beautiful location.
Copyright © by John Daniel 2013.