The Severn Railway Tunnel.

Chapter 9 - The Final Assault.
Hawshaw's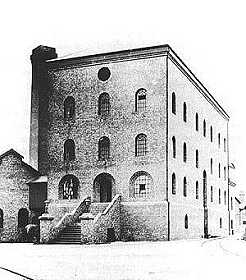 telegram insisting that Walker return to Sudbrook from Buenos Aires was received on the 30th of October 1885, but he replied that this was an impossible to do due to his commitments on the new dockworks in South America, however this work was completed by the 18th of November. Arriving back in England on the 14th of December, he travelled straight to Sudbrook to receive the news that the water pressure had reached 57¼ pounds per square inch. After consultation with Sir John Hawkshaw, it was agreed that the water pressure should be released by opening the sluice valve, however as all of the pumps except one 31 inch pump had been removed from Sudbrook, great care had to taken not to flood the tunnel. Gradually the valve was opened from the 21st of December and within a few hours, the water pressure dropped to 30 pounds per square inch and still falling until, on the 29th of December, the pressure was down to 13 pounds per square inch and the valve was fully opened.

Obviously a permanent pumping station was required to continually remove the Great Spring from the tunnel and so a new shaft of 29 feet diameter was sunk 180 feet deep adjacent to the side heading. A pumphouse containing six Cornish 70 inch beam-engines sufficient to pump 25 million gallons a day was built over the shaft and an additional pumphouse was built at 5 miles 4 chains with two 65 inch beam-engines and also at the Sea Wall Shaft
with two 41 beam-engines. To offset the cost of this additional plant, the Great Western tried to sell the water from the Great Spring to the Bristol Waterworks Company, but after much discussion this proposal failed and the only alternative was to pump the water into the River Severn.

All of the work now in operation at the tunnel concentrated on sinking the new shaft, erecting the pumphouses and repairing the damaged brickwork in the tunnel, however, as a trial of things to come, a coal train was worked on the 9th of January 1886, through the tunnel from Newport to Bristol and onto Southampton. A 40 feet diameter ventilation fan was erected in a building next to the new pumphouse at Sudbrook and this became operational in August.

On the 1st of September 1886, the tunnel was opened for goods traffic, and the tunnel was inspected by Colonel Rich, the Government Inspector on the 17th of November with a view to opening for passenger traffic. Nearly fourteen years from the time that the Great Western commenced the works, the Severn Tunnel was opened to passengers on the 1st of December 1886.
Copyright © by John Daniel 2013