4073 'Castle' class introduction
Flashing green, brass and copper, the Great Western's 'Star' Class 4-6-0 four-cylinder express passenger engines, designed by the company's Locomotive, Carriage and Wagon Superintendent G. J. Churchward and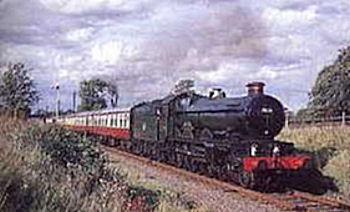 his team of engineers, were Britain's most successful and economical main-line passenger power from 1907, when the first of the class appeared. Their pre-eminence lasted until 1922, when Nigel Gresley's first Pacific was completed at Doncaster for the Great Northern Railway, which was soon to become part of theLondon and North Eastern.

On the 4-6-2 Pacific theme, the Great Western's one and only attempt, The Great Bear of 1908, was not technically a failure, but its weight reduced route availability to such an extent that gave little scope for operational research on a one-off locomotive. Chuchward abandoned the notion of Pacifics for Great Western main-line passenger work and concentrated, after experimenting with French-built compound 4-4-2s, on four-cylinder 4-6-0s.

So the 'Star' class, forerunners of the 'Castles', prevailed. They incorporated most of the characteristics of contemporary GWR express passenger locomotive practice and Stars turned out of Swindon works from 1910 onwards were equipped with the Swindon No. 3 superheater that was adopted as standard for many hundreds of GWR engines. They proved highly efficient in working heavy expresses on the main lines that would take their weight.

The seven years before the outbreak of war in 1914 saw increases in the weights of main-line passenger trains made possible mostly by the introduction of the 'Stars', however, by the time C B Collett took over from Churchward at Swindon in 1921, holiday traffic from London to Devon and Cornwall was demanding heavier trains and the GWR management devoted proportionally more money and resources to West of England services from Paddington than to any other routes.

The late Professor W A Tuplin described the 'Castle' locomotive as a glorified 'Star' especially since the design was based on that engine. The layout of the frame and the spacing of the wheels was the same, but the cylinder diameter was increased from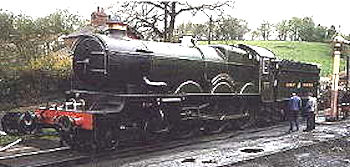 15 to 16 inches although the boiler pressure remained at 225 pounds per square inch. Initially the large number 7 boiler was planned for the Castle design, but after concerns by the Chief Engineer regarding the maximum of 20 ton axle limit, a new slightly smaller number 8 was introduced. The 'Castle's' tractive effort was 31,625 pounds at 85 per cent boiler pressure compared to the 'Star's' 27,800 pounds, and the 29,835 pounds, also at 85 per cent boiler pressure, of the first Gresley Pacifics of the LNER. The grate area was increased to 29.4 square feet in the 'Castle' from the 27.07 square feet in the 'Star'. The bar-frame bogie was of standard Swindon design and the superheater was the number 3 type as used in the 'Star'. The top-feed device

for introducing water into the boiler through the steam so as not to loose heat was of GWR pattern, with a series of trays to cause descent into the boiler in a fine spray.

Much was made in GWR publicity of the 'Castles' roomy cab, with side windows and comfortable seats for the driver and fireman, and a canopy extending rearwards for shelter. The Great Western panache was provided by restoration for the first time after World War I of the copper-capped chimney and polished brass safety-valve cover. The tender attached to the class as originally built was the standard low-sided tender taking six tons of coal and 3500 gallons of water. The 'Castles' average coal consumption was one of the lowest in the country (2.83 pounds per drawbar horsepower per hour compared to a 4 pounds consumption figure common for the other railways in the 1920s), but the standard tender was changed for a 4000 gallon design that emerged in 1926.

In 1927,only three years after the

first 'Castle' was completed at Swindon, there appeared the first of the 'King' Class four-cylinder locomotives. The 'King' had a tractive effort of 40,300 pounds and yet was still in the 'Star' and 'Castle' tradition. One main object of the 'Kings' was to cut journey times, for example, of the Cornish Riviera between Paddington and Plymouth to four hours flat. But the 'Kings' suffered from restricted route availability because of their weight, and the 'Castles' remained the most useful Great Western express passenger engines. Routes that involved the class included the whole West of England main line to Penzance, the whole South Wales route to Fishguard Harbour, the Birmingham and the North mainline to Chester, cross-country routes from Bristol via Pontypool Road and Hereford to Shrewsbury, from Birmingham via Stratford-upon-Avon, Cheltenham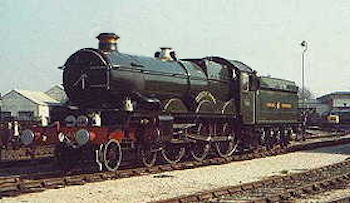 and over the London Midland and Scottish to Bristol, and even from South Wales via Bristol and Bath to Salisbury en route (over the Southern) to Brighton. They could if required stand in for the 'Kings' on the hardest Paddington - Birmingham - Wolverhampton and Paddington - West of England turns. They worked the medium-weight Bristolian non-stop between Paddington and Bristol, which was allowed only 105 minutes each way, 118 miles down via Bath and slightly less up via Badminton. One member of the class, number 5006 Tregenna Castle achieved a record on June 6, 1932, by hauling the up Cheltenham Flyer, at that time the World's fastest train, from Swindon to Paddington in 56 minutes 47 seconds for the 77.3 miles, against a schedule that was normally 65 minutes.

After the initial build of 30 locomotives, numbers 4073 to 4099 and 5000 to 5012, there followed a gap of 5 years before the next batch of Castle's were built. These locomotives built in 1932 as numbers 5013 to 5022 had various improvements over the earlier engines sufficient to be known as the '5013' class. Improvements included a compartment situated between the centre and trailing wheel splashers on the left-hand side to accomodate the fireirons - first trialed on number 4085 Berkeley Castle and changes to the locomotive springing and inside valve chest design. The largest change however was to the boiler and firebox area.

In the original Castle class design to achieve the maximum possible heating surface of the firebox and grate area, the water space between the inner and outer fireboxes had been made narrower than previous standards. This however created problems to effectively clean this gap on boiler washouts. In the '5013' class, this space was increased to normal standards, together with a reduction in the grate area from 30.3 square feet to 29.4 square feet, together with the number of small tubes were decreased from 201 to 197. This reduction did not have any adverse effect on the steaming performance as it was normal practce to run with a deep fire built up in 'hay-cock' fashion, and rather than pure grate area, it was the ability to burn coal economically that gave the Great Western locomotives their qualities.

An important improvement was made to the next batch of Castle's from number 5023 onwards. At Swindon and in common with many other railways companies, locomotive alignment between the frames, cylinders and axles box guides was made by using wires, trammels and a centre prop.As the performance and reliability of a locomotive greatly depend on this alignment, the German State Railways began use of the Zeiss optical alignment gear and after modification to the Great Western locomitves, it was use for all new builds and repaired lomotives. In addition, due to the exacting dimensions that this achieved, valve gear tolerances could be greatly reduced to the absolute minimum when new, so much so that an ex-Great Western man, when reviewing the manufacturing practices of other railway companies, remarked "We scrap at the amount of clearance that they start with". Many observers noted that this batch of Castle's when newly out-shopped ran with the quietness of a sewing machine.

Castle class builds from number 5033 of 1935 incorporated for the first time a speedometer. As this year would also mark the 100-year celebrations of the Great Western, certain Board members had noted that America and German locomotives began to sport streamlining to reduce the air resistance on their high speed workings. The details of Collett's modifications to Castle class number 5005 Manorbier Castle and King Class number 6014 King Henry VII are contained on a seperate page. In 1937 it was decided to transfer the 'Earl' names from the 4-4-0 Dukedog or Earl class to Castle numbers 5043 to 5063 and details of the names are given in the locomotive details lists. In addition, it was decided that the last ten members of the Star class, affectionately known as Abbeys, would be rebuilt as Castles with number 4063 Bath Abbey becoming 5083, 4064 Reading Abbey becoming 5084 and so on with 4072 Tresco Abbey becoming 5092. After the Battle of Britain in 1940, twelve Castle's, numbers 5071 to 5082, were renamed in honour of the types of aircraft that flew in the Battle.

After the Second World War, and indeed after nationalisation in 1948, 'Castles' continued to be turned out by Swindon works. The later engines were of a slightly modified design by F W Hawksworth with the larger straight-sided all-welded tender, and some Castles were fitted with larger superheaters, double blastpipes and chimneys. The last of the 171 'Castles', which included 15 members of the 'Star class rebuilt as 'Castles' and the rebuild of the only Great Western Pacific The Great Bear , was number 7037 and was named Swindon by HRH Princess Elizabeth (as she then was) on a visit to Swindon works in 1950.

Just eight members of the class have been saved and they are numbers 4073 Caerphilly Castle, 4079 Pendennis Castle, 5029 Nunney Castle, 5043 Earl of Mount Edgcumbe, 5051 Earl Bathurst, 5080 Defiant, 7027 Thornbury Castle, and 7029 Clun Castle.

Specifications.
| | | | | | |
| --- | --- | --- | --- | --- | --- |
| | | | | | |
| | Cylinders | (4) 16 x 26 inches | Driving wheel diameter | 6 feet 8½ inches | |
| | Bogie wheel diameter | 3 feet 2 inches | Tractive Effort | 31,625 pounds | |
| | Boiler type | Number 8 | Boiler maximum dia. | 5 feet 9 inches | |
| | Boiler minimum dia. | 5 feet 1 15/16 inches | Fire tubes, no. and dia. | 201 x 2 inches | |
| | Flue tubes, no. and dia. | 14 x 5 1/8 inches | Superheater tubes, no. and dia. | 84 x 1 inch | |
| | Boiler pressure | 225 lbs/square inch. | Boiler length | 14 feet 10 inches | |
| | Area of firegrate | 29.36 square feet | Heating surfaces, tubes | 1,885.62 square feet | |
| | Heating surfaces, firebox | 163.76 square feet | Heating surfaces, superheater | 262.62 square feet | |
| | Length | 65 ft 2 in | Total Weight | 126 tons 11 cwt | |
| | Water Capacity | 4000 gallons | Coal Capacity | 6 tons | |
| | G.W. Power Class | D | Route Availability | Red | |
| | BR Power Classification | 7-P | | | |
Copyright © by John Daniel 2013.