G. J. Churchward
George Jackson Churchward was born on the 31st January 1857 in Stoke Gabriel, South Devon into a family without any previous engineering background. At school he was described as brilliant at mathematics but he still retained an understanding for the countryside. When he left school at sixteen, he began working under the Locomotive Superintendent of the South Devon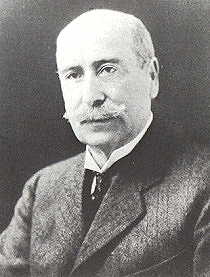 Railway at a time when the railway was still broad gauge. At nineteen he was transferred to the Great Western drawing office at Swindon where he later became manager of the carriage works, then Works Manager and eventually Chief Assistant to William Dean. When Churchward was forty-five, he succeeded Dean as Locomotive, Carriage and Wagon Superintendent (a title replaced by Chief Mechanical Engineer in 1916). The post was assured to him at the turn of the century and on this strength he drew up his standardisation plan. He restricted his engine classes to less than a dozen, using standardised boilers, wheels, cylinders, motion and tenders. His key ideas were from American influence with regard to boiler design and France regarding cylinder and valve configuration.

Churchward's reforms began with the boiler which he evolved into four standard types, each a little larger or smaller to suit his engine classes. Dean's round-topped firebox was replaced by the flat-topped Belpaire type with a narrow sloping grate to burn the coal more efficiently and large water spaces to give more steam at the hottest part of the boiler. Churchward also tapered the boiler to help steam formation, and it was this tapering that was his most visual and instantly recognisable trademark.

The first class of locomotives to begin the Churchward revolution were the 4-4-0 'City' class, as due to his advancements in boiler design, quickly gained a reputation as the most powerful inside-cylinder passenger engine. 'City of Truro' became the first engine in the world to haul a train at 100 miles per hour in 1904.

His next class of engines were the 4-4-0 'County' class, also a powerful locomotive, but with outside cylinders and short wheelbase, they were known as "Churchwards rough riders" due to their see-sawing action when being driven hard.

After conducting performance tests between his engines and three imported De Glehn engines, Churchward was confident that four cylinders meant smoother and better balanced running at higher speeds than two. The locomotive that emerged from these tests was the 'Star' prototype, number 40 and later named as 'North Star'. Although built as a 4-4-2, she was quickly converted to a 4-6-0 wheel arrangement since this offered twice the adhesion on gradients. In this engine, all of Churchwards goals were achieved, and with another seven-two engines, the class became known as the 'Star' class.

If Churchwards dream engines were the 'Stars', then 'The Great Bear' must have been his nightmare. Although heavily promoted by the company, it was an ungainly brute 55 per cent more powerful and 30 per cent heavier than the 'Star' class. Restricted to the Paddington to Bristol route due to its axle loading, it was prone to derailment on sharp curves and care was needed when reversing. When it was dismantled by his replacement, Charles Collett, after 16 years of use, Churchward was said to be very upset.

Churchward retired in 1922 and tragically died on a foggy December day in 1933 knocked down by a steam locomotive close to the Swindon Works. He is buried in the churchyard at Christ Church, Swindon.

Churchward never married, and when others pulled his leg about his bachelor status, he once replied "A lot of you are big men - important men; and doing big jobs where what you say goes. But what are you when you get home? Worms, bloody worms! "
Copyright © by John Daniel 2013.