9400 tank class introduction
Running numbers: 9400 - 9499, 8400 - 8499, 3400 - 3409.

Built: 1947 (9400 - 9409 produced by GWR, Swindon) to lot number 365,
1949-51 (8400 - 8429 produced by Bagnall & Co.) to lot number 384,
1949-52 (8450 - 8479 produced by Yorkshire Engine Co.) to lot number 385,
1950-51 (9410 - 9459 produced by R. Stephenson & Co.) to lot number 382,
1951-53 (9460 - 9489 produced by R. Stephenson & Co.) to lot number 383,
1952 (8480 - 8499 produced by R. Stephenson & Co.) to lot numer 386,
1953-54 (8430 - 8449 produced by Bagnall & Co.) to lot number 384,
1954-55 (9490 - 9499 produced by Yorkshire Engine Co.) to lot number 387,
1955-56 (3400 - 3409 produced by Yorkshire Engine Co.) to lot number 387.


The '9400' class were the tank version of the Collett '2251' tender engine. As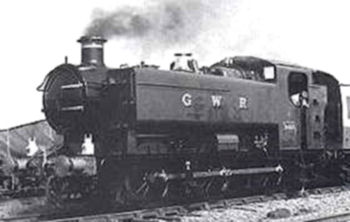 can be seen the first ten locomotives were built at Swindon and these engines represented the last locomotives built by the Great

Western.

The design of the class was unusual in that they were one of the few pannier tank designs with taper boilers although superheating was fitted to 9400 to 9409 only. The engines were mostly used for heavy shunting and short distance freight and passenger duties, but numbers 8400 to 8406 were employed on the former L.M.S. system at Bromsgrove giving banking assistance on the Lickey Incline.

Withdrawal.
With the onset of dieselisation, the working life of the class was very short and from a class of 210, just 78 were still in use in January 1964. By the end of June 1965, the last members of the class were withdrawn with some engines being cut up when they were barely 5 years old.

Preservation.
Two members of the class have been saved and they are numbers 9400 and 9466.
Specifications.
Cylinders
(2) 17½ x 24 inches
Driving wheel diameter
4 feet 7½ inches
Boiler type
Number 10
Boiler pressure
200 lbs/square inch
Tractive Effort
22,515 pounds
Copyright © by John Daniel 2013.